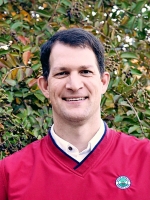 Assistant Pastor for Communications Assistant Worship Leader
I was born and raised in Seneca, SC (for those of you who don't know, it's near Clemson.) I was a typical boy who loved playing sports, getting dirty and riding bikes. As far as I can remember, I have always loved Jesus. I was raised Presbyterian and baptized as an infant. In high school, I played 4 years of Varsity Soccer and 2 years of Varsity Basketball. I was also in the Marching and Concert Band. But more importantly, I chose to make my faith my own and really began chasing after God.
I felt the call to ministry after my first quarter of college at Georgia Tech. While at Tech, I was active in my fraternity (Theta Xi), participated in intramurals, and was involved in the GT Marching Band. I also survived 3 quarters of Organic Chemistry, endured the 1996 Atlanta Olympics, was a co-op at Chemical Products Corporation in Cartersville, GA and was allowed to graduate (ha, ha) with a degree in Chemical Engineering (and believe it or not I didn't even change my major).
After graduation, I took a job in Lake City, SC at Nan Ya Plastics where I worked for 4 years. During that time I joined Lake City First Baptist Church and participated in believer's baptism, bought my first sports car, and met/married my beautiful wife Lori (3/30/2002). In 2003, God opened the door for me to attend seminary at Fuller Theological Seminary in Pasadena, CA where I received my Master of Divinity degree with a concentration in Worship, Theology and the Arts.
In 2008, I took a part time job with First Baptist Church as the Assistant Worship Leader. I helped lead the 10:30 contemporary service, and led worship for the Reveal service and the youth SEBO service. In May of 2010, I went full time as the Assistant Pastor for Young Adults while continuing my role as Assistant Worship Leader.  In the fall of 2013 I transitioned out of Young Adults and into Communications.  I am currently in charge of the church website, publications, and social media while continuing my role as Assistant Worship Leader. My wife and I have two boys.
Here are some random facts about me:
I follow Georgia Tech Football and Duke Basketball
I watch NASCAR (#11, #18, #19, #20)
I've been playing guitar since 1993
Disc Golf is my favorite Hobby
I have a beagle named Hershey and a lab named Luna
I read a lot but not as much as David Mitchell