Women's Ministry will be offering the following weekly Bible studies for women of all ages in our church and in our community.  Childcare will be available for Tuesday morning studies.  Scholarships are available.  Bring your friends and neighbors.
Sunday Mornings @ 9:10 a.m. (Room 302)
If you are looking for a place to connect with other ladies and fellowship around God's Word on Sundays, the Ladies Sunday School class is right for you. The only criteria for participating in this group is that you are female. We have an eclectic group of ages and stages in life that blend well together to form relationships, prayer partners, mentors and friends. There is no weekly homework but you can receive an email that gives you a highlight of the upcoming lesson to read ahead if you choose, but this isn't necessary. We understand the insanity of a woman's daily life and seek to encourage and support you wherever you are to grow in Christ's likeness. Join us each Sunday at 9:10 A.M.
Class Director: Celeste Rinehart - ten.m1480779334uirop1480779334moc@t1480779334rahen1480779334irct1480779334
Bible Teacher: Branda Polk - moc.l1480779334iamto1480779334h@klo1480779334padna1480779334rb1480779334
Tuesday Mornings @ 9:15 a.m. in "The Rock"
New Classes Starting in September 
(Starting 9/13)
First Peter
Led by Belinda Ezell
Free Handouts
This class will be a Bible Study on 1 Peter. The study will be a unique opportunity to dig deep into the formative truth for Christians today found in this epistle.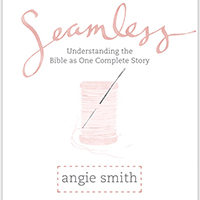 Seamless
by Angie Smith
Led by Kim Vickery
Student Book - $13.00
Have you always wanted to connect how the whole Bible fits together and learn the main theme and purpose? Come journey with us as Angie Smith shows us how the whole Bible from Genesis to Revelation connects as one beautiful seamless thread. This study will help us connect with the people, places, and promises of God's word in a fresh way and give us clarity and confidence in understanding of scripture. We are so excited to go on this journey with you.
Wednesday Evenings @ 6:30 p.m.
"War Room"
Led by Debbie Ivy & Monieca Hogg (Room 319 at 6:30 p.m.)
Student Book - $8.00
Women's Class - November 9 - December 7
Based on the movie about the power of prayer from the award-winning Kendrick Brothers. In the movie WAR ROOM, Tony and Elizabeth Jordan are typical churchgoers who have become complacent and, even hostile, toward God. Through this 5-session Bible study, believers will be called to evaluate their spiritual life and growth, to uncover their true character, to trust in the God of grace, declare victory over their true enemy, and discover that prayer really is a powerful weapon.