Women's Ministry will be offering the following weekly Bible studies for women of all ages in our church and in our community.  Childcare will be available for Tuesday morning studies.  Scholarships are available.  Bring your friends and neighbors.
Sunday Mornings @ 9:10 a.m. (Room 322)
If you are looking for a place to connect with other ladies and fellowship around God's Word on Sundays, the Ladies Sunday School class is right for you. The only criteria for participating in this group is that you are female. We have an eclectic group of ages and stages in life that blend well together to form relationships, prayer partners, mentors and friends. There is no weekly homework but you can receive an email that gives you a highlight of the upcoming lesson to read ahead if you choose, but this isn't necessary. We understand the insanity of a woman's daily life and seek to encourage and support you wherever you are to grow in Christ's likeness. Join us each Sunday at 9:10 A.M.
Class Director: Celeste Rinehart - ten.m1516333468uirop1516333468moc@t1516333468rahen1516333468irct1516333468
Bible Teacher: Branda Polk - moc.l1516333468iamto1516333468h@klo1516333468padna1516333468rb1516333468
Tuesday Mornings @ 9:15 a.m. in "The Rock"
New Classes Starting this January 9
Watch Your Mouth
by Tony Evans on RightNow Media
Your greatest weapon—for good or evil—is in your mouth.
Watch Your Mouth, the video series is based on bestselling author Dr. Tony Evans book by the same name. This compelling resource will help you learn to tame your tongue. With real-life stories and life-changing insights shared through engaging teaching, you'll learn what the Bible teaches about talking and: 
Discover the power of the spoken word to bolster your faith when you're doubting.
Discern what should or shouldn't be said so that you honor God with your speech.
Develop the ability to praise God and voice wisdom even in tough circumstances.
Get inspired by Tony's teaching on the tongue and model with your mouth the character of God. Don't let your words bring cursing or destruction to yourself and those you love. Instead, let your words minister and speak life into the world around you.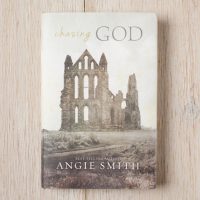 Chasing God
By Angie Smith
Maybe you've never asked the question out loud, but you've wondered. You do the things that look good on paper: read your Bible, pray, attend study groups and go to church on Sundays.
But you aren't convinced you really know Him.
Angie Smith understands because she had run circles around the same paths searching for Him, frustrated at her lack of progress. And she probably would have continued to do so had it not been for one realization that changed everything.
She wasn't following God; she was trying to catch up with Him. 
And without realizing it, you may be as well.
It's a distinction that affects every aspect of our lives with Christ, and it begins with learning where we've relied more on man's explanation of God than God Himself.
So many requirements, so many rules, and so much guilt where there is supposed to be freedom. It's the reason you wonder if you've measured up, and the nagging voice that tells you you're a failure as a Christian.
Three simple words changed everything for Angie, and she believes they can do the same for you.
Stop chasing God.
Wednesday Evenings @ 6:30 p.m. 
(Starting 1/10/2017)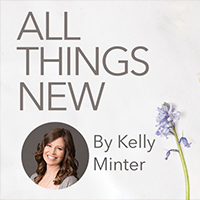 All Things New
by Kelly Minter
Led by Monieca Hogg (Room 319 at 6:30 p.m.)
The city of ancient Corinth was much like our own modern-day cities: a melting pot of electrifying cultural experiences to be had, along with the myriad pitfalls of spiritual depravity. Still, Paul wrote to the church of God in Corinth. Meaning God's church is meant to thrive in any city and every circumstance in which we find ourselves. Paul's letter is as timely as ever.
Over 8 sessions, Kelly Minter will lead you through the Letter of 2 Corinthians, exploring the anchoring truths of bearing treasures in jars of clay, meeting Christ through a pressing thorn, opening wide your heart in the midst of hurtful relationships, and what it means to embrace the lost and lonely as ministers of the new covenant. Each of us has a message to proclaim and live by: Because of Jesus the old has gone, the new has come.