Salvation And Baptism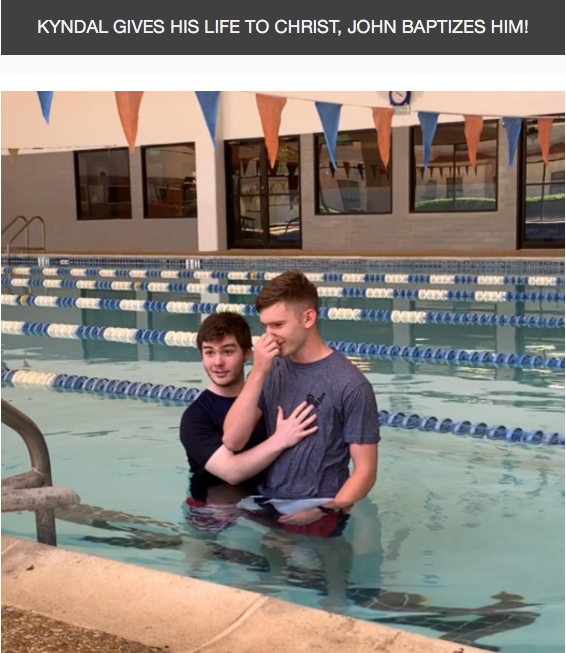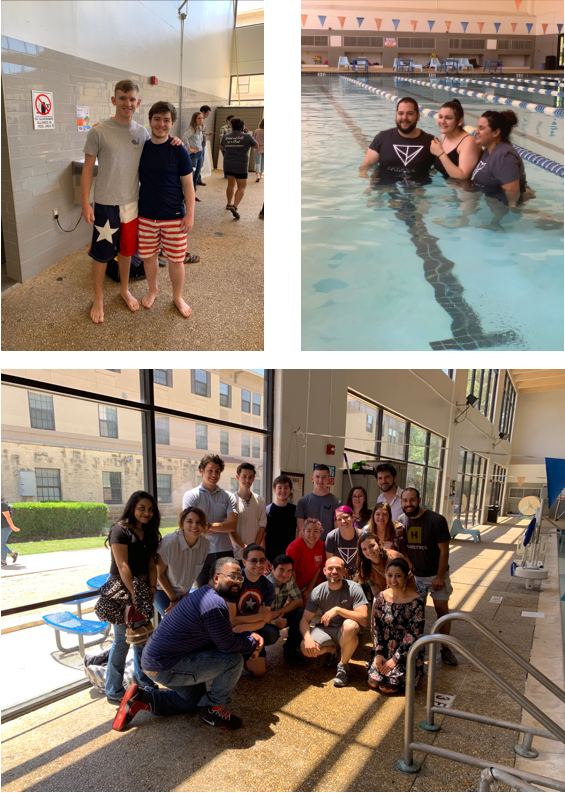 Here we are wrapping up another awesome and fruitful semester. A guy in my lifegroup named Kyndal gave his life to Christ this semester! He joined our homegroup through an invite to our Halloween party in the fall. He instantly became a regular attender to both church and our homegroup. I shared a formal presentation of the gospel with him via an outreach tool we use called the bridge diagram. It is about a 45 minute presentation that sweeps through who God is, who man is, the problem of sin separating us from God, various ways man has tried to bridge the gap created by sin, and then how God graciously and lovingly paid the price of our sin debt for us. He appreciated the presentation but felt he still had some questions he wanted our lifegroup to pray with him through. He describes last semester as getting to know Jesus. He described this semester as the time he surrendered his life fully to Christ. God is so incredible with his timing and providence. A week after Kyndal officially gave his life to Christ, he was called to deploy. He is one of our students that has raised his hands to serve in our military. It's crazy, he was offered a contract that would keep him from deploying until he finished school. After he was called, and with much prayer, he felt like he couldn't turn down such an honorable opportunity. It truly was a decisive  sacrifice, his grades have been incredible and he really enjoys his cyber security major. WE CAN'T WAIT FOR HIM TO COME BACK TO US! Our homegroup had a great celebration and our lifegroup has goals to keep him in prayer and send him gift packages over the next year until he comes back to us. Please keep him in prayer for the service he is providing our country.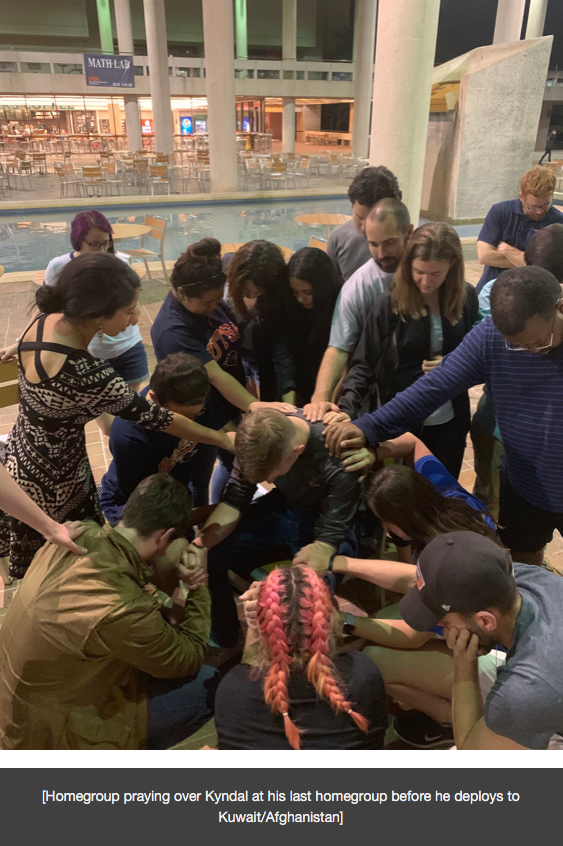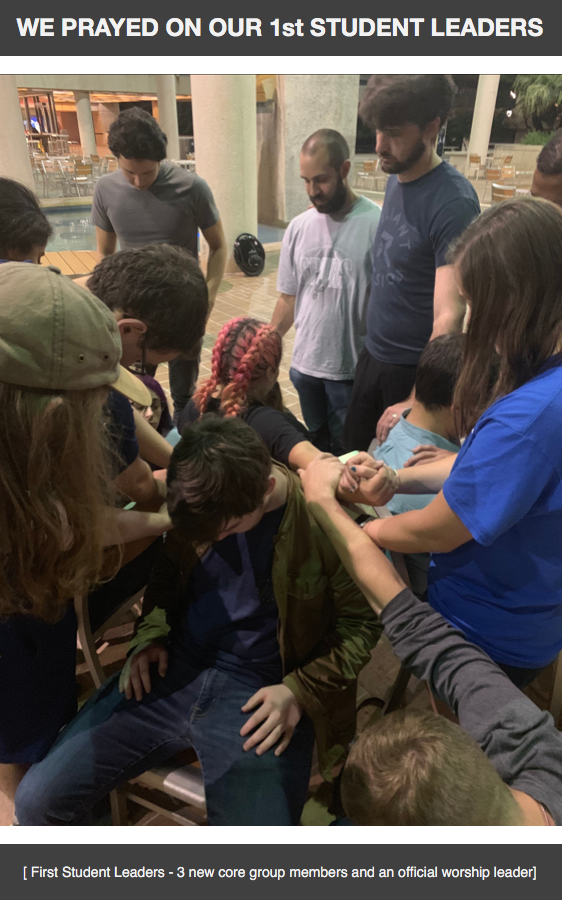 This is an incredible testimony to the Lord's faithfulness to build His church and raise up laborers. I can testify, as dark as it is and as vulnerable His church can feel at times, HE IS BUILDING HIS CHURCH among college students. John is the guy who has so faithfully discipled Kyndal and a guy named Riley in my lifegroup. Destinee after having just given her life to Christ and then baptized last semester has been faithful with everything we have asked of her. Her growth has been incredible to see. Julio is a guy I have been discipling since we started the church plant. He came with us from A&M and his trajectory has been nothing less than steady and stellar. Tori, the young lady who led Destinee to Christ and baptized her, was prayed on as our official worship leader for our homegroup.
HOW WE DO IT AT TAPROOT: We follow a recognition model, as opposed to just appointing leaders and then assigning tasks. We give members opportunity to use their gifts and serve the homegroup. As they are faithful with a little, we entrust them with more. By the time they are fully serving in a given role, say leading and discipling, we then recognize what the Lord is already doing through them by laying on hands and giving them a formal position. There are various qualifications besides just fruitfulness, such as character and availability that must be present as well. Christ does it many ways in His church. But what I appreciate about the recognition model is that it gives people opportunity to exercise their calling and gifts without the pressure of a formal role. The times I have just put someone in leadership without them being tested in it a little bit, and/or given an opportunity to see if they even like the type of work required, has usually ended poorly. It takes a lot more than mature character to persevere in some of the warfare that befalls leaders, and without the necessary gifting, their spiritual vigor can wilt pretty quickly.
Ok, we aren't laying hands on people every week I promise. There has just been a lot the Lord has been establishing this semester. Michelle Muenich is the wife of one of our Pastors Stephen Muenich. She has faithfully coached both homegroups and discipled several of the women on our church plant. She took over coaching the homegroup I lead when my wife Sarah stepped out with baby Collette. She will continue to coach and co-lead the multiplication homegroup as the Lord leads that next semester.
Leah... Oh my Lord, what an insane gift to have! Not sure if you recall us talking about us going on the church plant with 10 kids under 6 years old. We joked about how most church plants in our ministry go with young families with maybe one kid. We asked for prayer that the Lord would meet us in our unique need. Often children's ministry is the last thing to get attention on a church plant that is focused on college students. Well, Leah just finished support raising to be our children's ministry director. She has such a heart for children's ministry and is SO GIFTED! It really is crazy and such an answered prayer to see the Lord provide someone who would SUPPORT RAISE!?! to help shepherd and disciple the children of Taproot Church. She is actually a young lady that Christina Kroeger led to Christ in college. I believe Kyle led her husband Michael Kader to Christ in college as well. They both have been such an asset to the church plant.

OK LAST AWESOME NEWS! We have 4 students going to Colorado LT this summer from Taproot. There is one additional student joining us from a church supporting Sarah and me. There is a total of about 160 students from Collegiate Church Network that attend Colorado LT. They all have paid jobs at the YMCA of the Rockies, Estes Park. The YMCA allows us to partner with them. We provide student workers, they provide jobs, food and lodging. We then fly speakers out each week to teach leadership training modules. The students also all participate in a Project Group. These act like homegroups except the students are required to spend the whole day with their project group. The whole purpose of the project group is to foster spiritual community, be a primary vehicle for discipleship, and a place to put into practice the leadership skills being developed through the LT program. The program is 12 weeks long. Check out the LT PROMO VIDEO!
Please keep these items in prayer:
1) Sarah, family, and I to prepare well and have safe travels to LT. For God to bless the whole thing.
2) For God to sustain our support account as we spend the summer at the Colorado leadership training program.
3) Pray for the 5 students going with Taproot and the one joining us from supporting church (all 160 for that matter) to have incredible God filled summers at LT.
4) Pray for the students who will be working and attending school this summer. That they will find Christ centered community wherever they are and for them to come back strong and ready to minister to the next generation entering college at UTSA in the fall.
Thank you guys for all your support, we couldn't do it without you. Much love, and warm regards, - Andy and Sarah Stewart
NEW LIFE NOVEMBER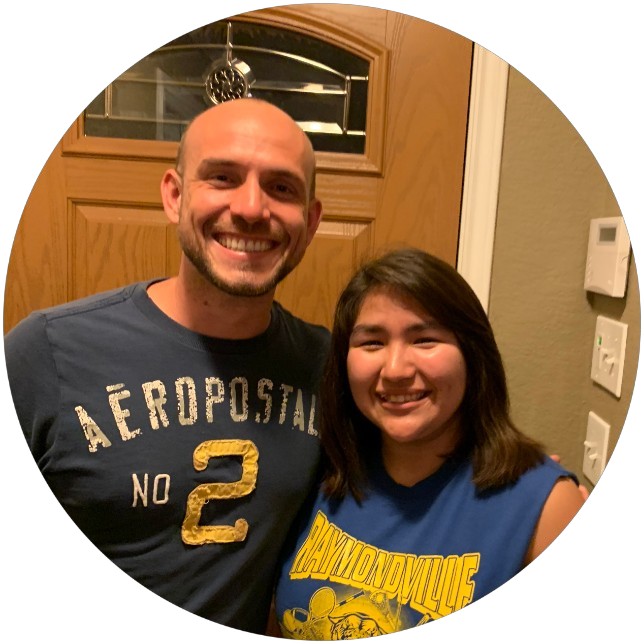 [Destinee Garza (right), me (left)]
Destinee Garza is one of our new students this semester. She lives with Tori and Destiny Luna. Walking from dorms to church on campus one morning, Tori got a sense that Destinee had not placed her faith in Christ. She asked some pointed questions and sure enough she hadn't. She lead her to Christ right there on the way to church. What is so incredible is that Destiny Luna invited Tori in the fall and then baptized her in the Spring. Then Tori leads their new roommate Destinee Garza to Christ this fall. This is what we dream and pray for. To put the cherry on top, this all happened on my birthday! I felt sooo loved by the Lord. We celebrated at lunch that we will always share a birthday together now. My natural birth and her new birth in Christ! She has been hungry to grow and one of our most committed members of home group this semester.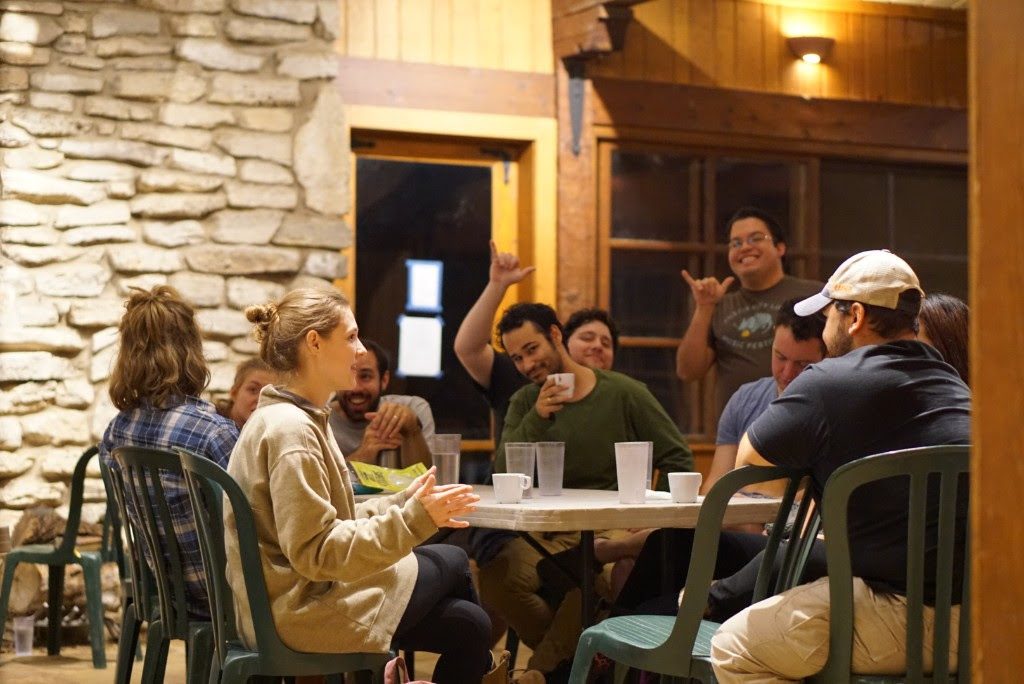 This was our fall retreat we call Spiritual Challenge Weekend (SCW, pronounced SCWuh). It was pretty crazy because it was at the HEB Camp in Leakey Texas right when all that flooding was happening. The other church in our network we partner with backed out, but we wanted to press on in hopes the Lord might make a way. There was a lot of last minute scrambling because we were sharing responsibilities. But the Lord blessed the weekend sooo much. While we had to ford a river (literally), there was very little rain. And the intimate setting allowed our students to share and connect in ways they admitted wouldn't have happened if we had 100 students there. Both Destinee (new believer) and Daisy shared in our tie down some of the most beautiful devotional thoughts that the Lord had done in their hearts that weekend. I feel I learn so much from our students. It was a precious time.
On Halloween we went on a campus prayer walk with a group from our support team. Six people flew all the way to San Antonio to come support the work, serve in our city, see our homegroup, and worship at our Sunday Service. We felt sooo blessed!
As we walked on campus, we were surprised how many students were in costume. Noah would run up and give them hugs which was soo cute (middle left pic).
We enjoyed Halloween evening with the students by trick-or-treating with our kids and then having a party!
This might gross some out. Someone came up with the crazy idea to do a gallon challenge. Basically you have 1-hr to try to drink a gallon of milk and to win you only have to keep it down for 30 minutes. There was a $100 cash prize for anyone who could do it. Gotta love college students. I had purposed there was no way I was going to participate before I got there. But... They talked me into it. With 9 participants, no one got through their whole gallon. Everyone threw up eventually, 6 didn't make it even the hour. The person who drank the most and held it passed the 30 minute mark was a 13 year old girl who fasted all day. She wanted to win because she was saving up for a car. This teenage girl beat 8 grown men lol!
The last picture (Liam and Noah in face paint) was actually at a refugee fall festival this weekend. We volunteered to help a church that has a really streamlined refugee ministry.  The festival was at an apartment complex that houses refugees from 12 different nations. It was so sweet to engage the nations right here in San Antonio. Noah kept asking this kind older Persian lady with a white head scarf if she was a ghost lol. Fortunately she didn't speak English, but it sure was cute =).
John is a student I'm discipling from my life-group . One night after seeing a speaker he loves, we rode around downtown on scooters. We had a blast! We kept thinking everything was the Alamo and then ran into the actual Alamo. We laughed so hard as we asked some strangers to take our picture. He is so hungry to grow and excited about discipling other students himself.
Prayer Requests:
1) Our annual Collegiate staff conference in Ohio this week. Pray for the Lord to equip, refresh, and revision us for the great commission in this next generation.
2) Pray for discernment as we explore what could be our first international mission trip next year to El Salvador! We have a young lady from El Salvador and she just returned from an exploratory trip last week. It is looking very promising.
3) Pray for the many students who want to go to our leadership training program in Colorado next summer. It lasts all summer and includes a full time job at the YMCA of the Rockies in Estes park. You do make some money, but a lot of our students have MAJOR financial struggles as first-gen college students. Pray the Lord provide in all the ways needed, including Sarah's and my support account to be healthy enough to go. We have 9 students considering, all from our home-group.
WARM REGARDS EVERYONE! I LOVE YOU SO MUCH AND HOPE TO SEE Y'ALLS FACES AND GIVE HUGS SOON!
"I thank my God every time I remember you. In all my prayers for all of you, I always pray with joy because of your partnership in the gospel from the first day until now." (Php. 1:3-5 NIV)