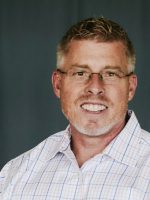 Chris came to faith in Christ as a high school student after being raised in a Mormon home during his younger years. His wife Dianna was instrumental in his coming to faith, as she required him to attend church in order for her to be willing to date him. That experience of engaging in the ministry of a local Baptist church connected him to a man who would lead him to Christ in just a few months.
After high school, Chris served in the US Marine Corps for 5 years before transitioning to other work. His call to ministry came as a young adult and resulted in his serving as Student Pastor at Flint Groves Baptist Church in Gastonia, where the Lord blessed with growth. The ministry grew from an initial 12 students to over 130 in his tenure. While serving at Flint Groves, Chris completed his education through Liberty University with a concentration in Student Ministry.
Believing it was time to try another role in ministry, Chris and Dianna ventured into the pastorate in Kure Beach, NC. In the two years Chris served as Pastor, they planted a beach church and created a retreat center. Even in that environment, Chris and Dianna found ways to connect with students and young adults. Realizing that his call and passion was for a focused ministry on students, they left the beach to pursue God's next assignment in Student Ministry.