Assistant Pastor for Youth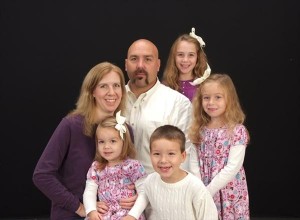 Kelley became the luckiest woman on earth on May 8, 1999, our wedding day. Most that know our family are laughing themselves silly right now. It is quite the opposite. We met in Louisville, KY while she was going to school at the University of Louisville and I was attending Southern Seminary where I earned my Masters of Divinity.Kelley and I have four beautiful children. Taylor is 9 and is in Fourth grade. Emily Beth is 7 and is in Second grade. Jack is 6 and loves t-rex dinosaurs and is in First. Now if I could just get his sisters to quit dressing him up like a princess. Last but not least is Belle who is 4 and loves to dance. She is so cute. I know everyone says this but my children are gifted. Really!
Prior to coming to First Baptist I spent 10 plus years working with students at Springdale Church in Louisville, KY. I also enjoyed coaching football with the Ballard Bruins, a local high school team.
I was born and raised not too far from Rock Hill in a little town right across the Georgia line named Toccoa. It was in Toccoa that I walked the aisle of Rock Creek Baptist Church and gave my life to Jesus. God turned my life around in dramatic fashion, allowing me to reach many of my classmates for Him. God gave me many opportunities to preach and speak to others about my commitment to Jesus throughout my teenage years. I really had the all-American childhood. I went on to attend Mars Hill College, North Carolina and played football for the Lions.
I love working with students. They are full of life and their challenges are some of the toughest out there. I believe that students are capable of leading and ministering as well as any adult. My goal is to grow them in their knowledge and faith, then turn them loose to win the world for Christ.
What you wouldn't know about me:
I won a competition Buck Dancing when I was a kid (Mountain Clogging)
I used to be able to run a mile
I watched Hershel Walker play for one of the greatest teams of all times
I love to read
I eat live worms to get middle schoolers to think I am cool