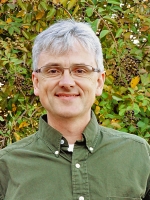 Like so many in the Southeast, I was reared in a church-going family by a dad who was a deacon and a mom who was a Sunday School teacher in a Southern Baptist church. In other words, I spent most of my free time growing up going to church. Fortunately, God was able to overcome a commitment to church-y things and get me to fall in love with Him when I was almost 19 years old.
Not long after that, I started school at Baptist College at Charleston (now Charleston Southern University) where I was lucky enough to out-maneuver the many guys vying for Marjorie McGrew's attention. She tells me she liked me because I was intelligent and sincere. I think she liked the car I was driving (a 1980 Pontiac 6000 with an inferiority complex). But we were married on a beautiful, cloudless winter day in 1989. It was the second best day of my life!
Two beautiful daughters followed. Thankfully they have their mother's beauty and aren't saddled with my terrible choice in sporting teams (Braves, Panthers, & the Gamecocks). Elizabeth, the oldest, graduated from College of Charleston in 2014, is married to John Ray Roberts and living in Louisville, KY while he attends seminary. She likes the same music I do (Switchfoot, Reliant K, U2, Hazardous Pedestrians) and has a habit of texting me on Sunday afternoon when our favorite NASCAR driver Jeff Gordon is having a good race. Victoria is a student at Winthrop University where she runs on the cross country and track teams. She shares my taste in and love for movies (Pirates of the Caribbean, The Lion King, The Emperor's New Groove, Alice in Wonderland). She also enjoys destroying me in a game of Disney SceneIt when she is home for the weekend. She's ruthless! Both share my taste in authors (J.K. Rowling, Cornelia Funke, C.S. Lewis, Lois Lowry). We also have two cats and a dog named Mia.
My family has lived in Charlotte, NC and Greer, SC where I served as Minister to Students. After spending three years on the staff here as Minister to Young Adults, I moved to the position of Minister to Senior Adults and Missions in May, 2010.