Tuesday Morning Bible Study :
9:00 a.m. in The Rock
Women's Ministry will be offering the following weekly Bible studies for women of all ages in our church and in our community.  Childcare (children 4 and under) will be available for Tuesday morning studies.  Scholarships are available.  Bring your friends and neighbors.
Seamless; Understanding the Bible as One Complete Story
by Angie Smith.
Book Cost: $14  
Begins January 14
Prepare to move forward with confidence in the understanding of Scripture as you examine the "Crimson Thread" that runs through the entire Bible.
Understand the Bible as a whole as you change the way you look at Scripture;
Gain clarity and confidence in your understanding of Scripture;
Discover a biblical context that reshapes and brings to life stories from the Old and New Testaments.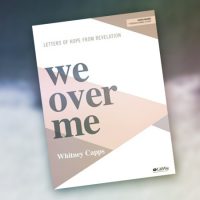 We Over Me; Letters of Hope from Revelation.
by Whitney Capps
Book Cost: $14
Begins January 14
It's easy to get frustrated with the local church—we see the people in the pews up close, both their beauty and blemishes. In the opening 3 chapters of Revelation, we find a wake-up call directed toward seven churches.  God has a purpose and a plan that He uniquely accomplishes in and through the church, and He wants every Christian to be part of it.
Discover God's ultimate desire for the church and your part in it.
Challenge your perspective of the modern church.
Learn to apply the importance of biblical community to your life.